In the recent past, a flurry of articles has predicted that the Bharatiya Janata Party is becoming the favourite of Bengal without much attempt to analyse why. An article published today in The Wire(written by Mamata Banerjee's biographer Monobina Gupta) tried answering this question and (not) surprisingly, argues that the Left is "helping" the BJP to grow. The projection of Banerjee as the true crusader against Narendra Modi was already a trend among a section of the intelligentsia, but the creation of the binary 'Mamata and Modi' is a recent innovation. This time, they are joined by the mainstream media and even some of the "alternative" media outlets. The 2019 Lok Sabha election is being seen — particularly in the case of Bengal – as the ultimate battle of "subalterns". The fight for the "Iron Throne" is seen as one between a former tea seller and a former slum dweller. Like Jon Snow of Game of Thrones, Didi (Banerjee) too got the support and sympathy of many, especially those who write articles and Facebook posts without any kind of lived experience.
Now, there are three central questions in this whole scenario.
1. What is the basis of declaring the BJP as the main opponent? Is it statistical, based on vote shares of parties in past elections?
If yes, then have a look at some simple graphs below. The whole idea of BJP being the opposition is a farce as the vote share of Left Front (LF) alone was much higher than that of BJP in the last Assembly election in 2016. Since that election saw an alliance of the Left with Congress, it will be legitimate to take their combined vote share as the anti-TMC, anti-BJP vote. LF got about 26% votes, Congress 12%, Bharatiya Janata Party (BJP) 10% and Trinamool Congress (TMC) 45%. Clearly, LF+Congress is far ahead of BJP and the real challenger of TMC.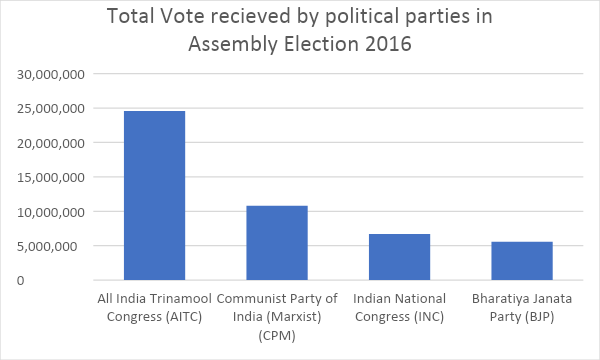 If someone is not satisfied with this simple yet clear declaration about the opposition party in Bengal, let us dig into more data, which is easily available in the Election Commission's website (so probably what happened with our GDP data is not going to get repeated here).
BJP, the 'emerging' ruler of the state, forfeited deposits in 263 seats out 291 seats that it contested, whereas both the Communist Party of India (Marxist) [CPI(M)] and Communist Party of India (CPI) forfeited deposits in none. The average vote BJP was able to manage across the seats that they contested is a mere 11%, which means that their votes are highly localised and, as a party, they do not have a pan-Bengal acceptance. The major Left parties though were successful in retaining around 40% votes across the seats despite winning only 27 seats. Similar is the case with Congress, though the number of seats they won are higher. The TMC, on the other hand, with 45% average vote share was able to capture 211 seats. So, on an average, the Left-Congress alliance seemed to have a credible consistency with an average 37% votes against 45% average vote of TMC in the seats they contested.
Also Read: Elections 2019: Bengal Witnesses Violence During All 6 Phases of Polling
Now, if this simple math is not enough to understand who are the competing parties in Bengal, let us bring it down to the individual seats, as our ivory tower academicians prefer particular events rather than a universal formulation.
The pie charts below show the share of seats where the Left, the TMC, the Congress and the BJP, each ended as the runner-up. The Left came second in more than 58% of seats, and if the Congress' seats are added that will be more 72%. The BJP came second in 2% of seats and won in 1% of seats. So, the statistics says that till 2016 election, the main opponents or rather the binary was between the TMC and non-BJP alliance. Among the 5 seats that BJP was able to bag the second position of the 291 they contested, one was Chakuliya where BJP was defeated by Ali Imran Ramz of All India Forward Bloc, one of the important allies in the Left Front for a long time.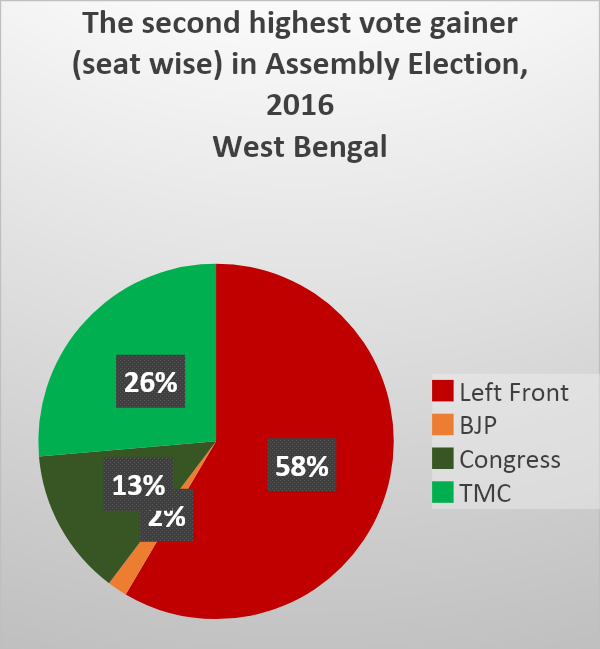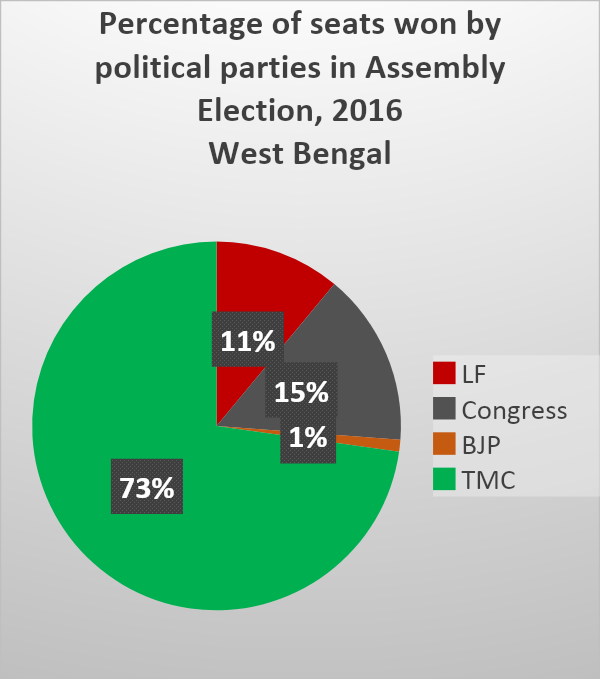 The question here is not to dismiss that the BJP or anyone, for that instance, can become the favourite, but on the precise premise of assuming so. Propagating a party which won 1% seat in last election to be the biggest contender within three years is either factually wrong or consciously done. Is it that creating a fear of BJP helps to consolidate the "Muslim vote bank" in Bengal in favour of the TMC? Or is promoting BJP as the one challenging TMC a cunning way to consolidate the anti-TMC votes in favour of the BJP?
2. What is the truth behind the propaganda that BJP supporters are former CPI(M) supporters, that many TMC supporters now would be former CPI(M) or Congress supporters?
Voters may change their loyalties, that's how electoral democracy functions. But what about the top leaders? Who is actually feeding the BJP?
Since statistical analysis doesn't support the TMC-BJP binary, let us take the cue from another article published by The Wire and consider people "jumping ships" as the reason behind how and why BJP is going to rule. The article mentioned a former MLA of CPI(M) and an adivasi leader Khagen Murmu joining the BJP as one of the significant examples of how Left is feeding BJP. Let us just refresh our memory and remember few more names:
Mukul Roy (National Vice President TMC, former Rail Minister and member of Rajya Sabha),
Anupam Hazra (TMC MP Bolpur)
Soumitra Khan (TMC MP, Bishnupur)
Arjun Singh (the "bahubali" of Barrackpore industrial belt and a four-time TMC MLA)
Shankudeb Panda (TMC's national leader)
Bharati Ghosh (the infamous police chief who called Mamata the "mother")
Nitish Pramanik (TMC youth leader with 11 criminal cases)
The people named above are right now part of BJP, and except Panda, all of them are BJP candidates in this Lok Sabha election. If by showing just a Khagen Murmu, you brand a whole party as a BJP ally, what should TMC be described as? How can Mamata be the gravedigger of Modi? Now, as a rational being one can say in a parliamentary democracy one should not expect partisanship, yet horse trading is one among the many glorious traits of Indian parliamentary politics. And that's where the real question is. The reason why BJP is gaining ground in Bengal is larger and dangerous which the "political analysts" are completely unaware of, or choose to remain silent about. The danger in this articulation is that it negates the possibility of Left as an option.
Both Modi and Mamata are saying in their campaign that if one votes for Left you are wasting your vote. But why should parties which had almost 26% (single largest block) votes just three years back be described like that? So that people are made to choose either Modi or Mamata. In these three years, Left as a force was in the forefront of every kind of mass mobilisation, not only at the national level but in Bengal too. Even the staunchest critics have admitted that the Nabanna Abhiyan, Singur Kisan long march and, of course, various Brigade Ground mass meetings saw huge mobilisations of common people. The recent two-day all India trade union strike was a major success despite the TMC disrupting and even arresting people who came out on to the streets for making it a success. Nowhere has BJP been seen in any kind of large-scale agitation against TMC, keeping aside their flop Brigade meeting. Nowhere has TMC been found building a movement against BJP (bringing political leaders on one stage is not a movement). So, why should it be said that showdown is between these two? So that the Left can be rendered invisible? So that no matter who is the winner, there won't be anyone to speak for the labouring classes?
Also Watch: Trinamool, Panchayat Polls and the Violence in West Bengal
3. Competitive communalism and the last 7 years have disrupted what West Bengal was known for. Hindu refugees that came after Partition didn't demand Hindu Rashtra – then why now?
Even in the NDA regime, West Bengal didn't see any kind of BJP influence. During some of the most polarising events in recent history, be it the demolition of the Babri Masjid (1992) and its aftermath, or the Gujarat massacre (2002), Bengal remained calm and no major communal violence was reported. Actually, during the 34 years of Left rule, communal riots were rare. But once TMC took power in 2011, communal strife started increasing. Not only that, the RSS-run shakhas which were near 750 in 2013 increased to 1,279 in 2018 (up by 71%). Festivals like Ram Navami, Hanuman Jayanti, even Brahmin Bhojan which were completely alien to the Bengali Hindu imagination not only were popularised but the intense competition between TMC and BJP in facilitating and appropriating those made them more legitimised.
Since the BJP came to power at the centre in 2014, communal riots and communalisation of society in Bengal gathered an unprecedented pace as can be seen from the following graph (data collated from Parliament responses).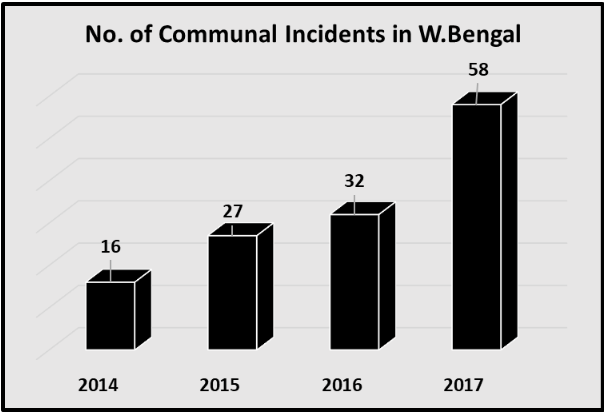 The communal history of Mamata Banerjee and her party has hardly become a topic of discussion, leave apart her coalition with BJP in 2004 after the Gujarat massacre which everyone has conveniently forgotten. Why does nobody talk about her rampant use of religious symbols for political mileage, the shameless appropriation of rituals to perform media stunts which actually led to politicisation of religion and thus, ideologically prepared the ground for RSS to preach hatred and venom? What about her vicious role in polarising Bengal and pulling it back in to the darker ages?
No, the Left won't "take responsibility" if at all the nightmare comes true. For the last 7 years, Bengal under Mamata underwent a huge transformation. The lack of jobs and employment had drained many educated youths from the state, those who could not, had no choice but to join the "TMC militia", the syndicates to make sure they don't die of hunger. In the last panchayat elections, a boy who had completed MA and B.Ed. was caught by the locals while he tried to capture a booth on behalf of the TMC. Others fled but he was trapped and beaten to death. Later reports revealed that this was his first day in TMC. A local leader had told him that he would arrange a job for him if he does his "duty" well.
This is where Mamata Banarjee has brought Bengal to, with a bunch of educated, desperate, vulnerable, jobless youth who can be used for her or anyone's political ambition. RSS and TMC are hand in glove, that's why even in this tense atmosphere you don't find BJP uttering a word about the Saradha chit fund, or the Narada sting operation. There has been no Parliamentary ethics committee meeting in all these years to take action against the TMC MPs who are regular visitors to jail.
No, the Left won't "take responsibility" if BJP gains, because even now it is the CPI(M)'s Kamrul Shaikh who gave up his life by daring to be the polling agent in Khandoghosh, Burdwan. The constant propaganda that makes people believe a party is "non-existent" and "insignificant", although it had the single largest opposition vote just three years back, and educated people buying this narrative, further spreading it – it is they who should own responsibility for doing the crime of misleading the already troubled people. From Tripura to Kerala, it is the Left who is fighting the RSS and their allies like TMC. A bunch of propaganda articles which want to consolidate the anti-TMC vote to BJP and vice-versa won't have the last word. For the working people's struggles will continue even if there is not a single seat in Parliament.
Credits : NewsClick